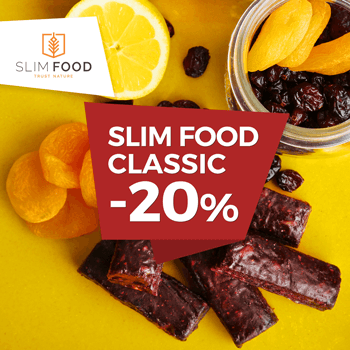 Get a 20% discount on the purchase of SLIM FOOD CLASSIC
Ready to consume, wholesome food product SLIM FOOD with dietary, nutritional and pro-health effects you can buy from today at 20% off!

The promotion includes:
Slim Food Classic 36 bars and 48 bars

Slim Food Intensiv 36 bars and 48 bars.
Edit: Despite we have raised the amount of promotional stock supply to 250%, all the Slim Food Intensiv has been sold so we ran out of it much sooner than expected.
That's why our Slim Food Intensiv special offer ends and the product goes back to its regular price, however Slim Food Classic is still on 20% discount.

Attention! The point value is changed by 20%, i.e.:
Slim Food Classic 36 - 16 points
Slim Food Classic 48 - 19 points
Ensure a healthy and beautiful body, and an attractive figure without unnecessary kilograms.

>>> Go to the shop <<<
Return to list