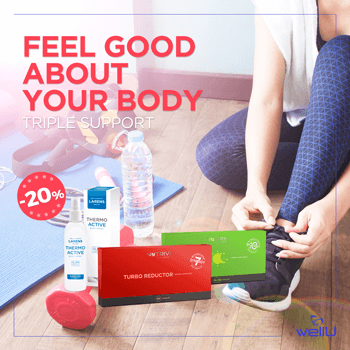 Feel good about your body – triple support 20% cheaper
The metabolism support benefits not only in a slim body shape, attractive looks, and great endurance but also, above anything else, with a great frame of mind. Feel good about your body, use triple support from Nutrivi and Larens 20% cheaper!
Now in a super offer 20% cheaper*:
Nutrivi Good Life Day & Night 60 caps. - complementary, two-phased formula acts in harmony with organism's circadian rhythm. It provides active substances that bring energy during the day and calm, as well as regenerate vital strength during the night.

Nutrivi Turbo Reductor 60 caps.
- a 100% natural supplement increasing metabolism, designed with a slim figure in mind.
Larens Thermo Active Body Spray 100 ml

- a revolutionary preparation in spray form. In addition to Biopeptide Complex it contains Lipout™, an active ingredient derived from marine algae, which due to its proven efficacy can be an alternative to invasive treatment reducing excess accumulated fat.
*-20% point value

Use it before we run out of something! Offer valid until called off or while the stock lasts!
Return to list