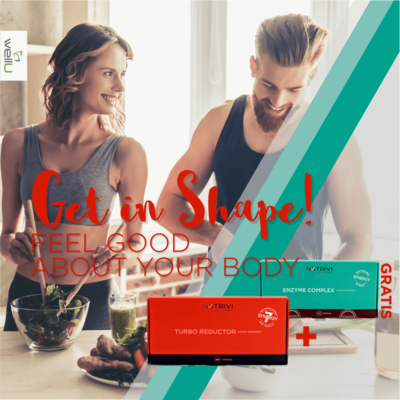 Feel good about your body – double support thanks to the Turbo Reductor and the Enzyme Complex
Attention, all promotional sets got sold out!

Smoothly running metabolic processes are the key to your health. The metabolism support benefits not only in a slim body shape, attractive looks, and great endurance but also, above anything else, with a great frame of mind.
Turbo Reductor that supports and stimulates metabolic processes was just joint by a new product – Enzyme Complex, a 100% natural combination of the two proteolytic enzymes that significantly improve the protein digestion processes, significantly benefitting not only the digestive system but also the entire organism.


Starting today, when buying Turbo Reductor 60 caps. you will receive a premiere box of the Enzyme Complex for free!
*
*Attention! The number of the promotional sets is limited to 200.


Enzyme Complex is a composition of bromelain and papain, two proteases - enzymes performing protein catabolism. It was created to support the digestive system during the proteins metabolism. It contributes towards the optimization of this process that could be disrupted, for example, by the constant, age-linked decrease in the gastric juice production.
REGULARLY SUPPLEMENTED ENZYME COMPLEX:
supports protein digestion (meat, dairy), eradicates results of the protein digestion disorders
prevents the undigested protein residues from remaining and rotting in the intestines, generating toxins
supports the immune system
supports the respiratory system
supports the circulatory system
soothes the pain, fights inflammations, accelerates healing after treatments and injuries


The new product perfectly compliments the already known Turbo Reductor – a revolutionary diet supplement created for those willing to lose the excessive weight, achieve and maintain the desired shape. The synergic joint action of 7 100% natural plant extracts of the new formula significantly stimulates:
metabolic processes,
increases thermogenesis,
reduces sugar absorption,
facilitates utilization of the excessive fat storage while making it difficult to gather new ones,
enables to control cravings.

A better metabolism is a good frame of mind. Now, thanks to the double support, your pursuit of a great shape will be even more effective!
Keep calm and Get in shape! :)
Return to list