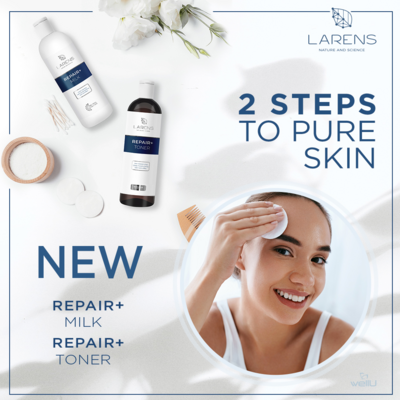 EXPECTED PREMIERE OF THE MAKE-UP REMOVAL DUO
A new cleansing ritual with a repairing and regenerating effect from the Larens brand is now on sale! Meet the Repair+ milk and toner. We would say that they are a great complement to the Larens Color line, but these preparations are much more than makeup removal.
What makes you love these products from the first use?
Corrective action already at the makeup removal stage? It is possible with the new duo Larens! The active ingredients of both preparations have been selected to work synergistically to obtain the effect of cleansing, moisturizing, nourishing, strengthening and soothing the skin. This synergy gives an optimal repair action, i.e.
Repair+
.
Thanks to the caring ingredients, the milk and toner visibly illuminate, moisturize and smooth the skin, leaving it satin smooth (the so-called Satin Effect). If you avoid cosmetics containing: parabens, PEGs, phenoxyethanol, nylon, aluminum, PVP, SLS and microplastics, then Larens Repair+ Milk and Larens Repair+ Toner will be perfect for you.
is an active cleansing and repairing preparation. It enriches the daily care with another step towards perfect hydration and deep nourishment of the skin. It removes even strong makeup very effectively and gently. This is due to the nourishing rice oil, which strengthens the washing properties of the preparation.
* For the sake of the environment, we sell the Larens Repair+ Milk make-up remover pump separately. Less plastic means more health and greenery! After using the product, just unscrew the pump, wash it and put it into a new bottle of milk. Buy once and use it all the time!
is a toning and repairing preparation for toning the skin. The acidic reaction of the preparation restores the skin's natural pH level, protecting it against the development of bacteria and imbalance of the microbiological balance. It contains collagen that has a repairing effect already at the toning stage.
Return to list