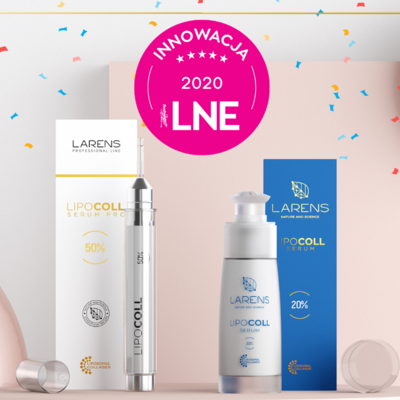 Double distinction - 2020 LNE Innovations for LipoColl Serum
In spite of the fact that both the LNE Congresses planned in the year 2020 could not take place, the editors of LNE Magazine Les Nouvelles Esthetiques stayed faithful to the tradition and once again awarded its prestigious distinctions for the beauty industry.
We are extremely proud that among 21 most innovative products of the season, which set the new trends of the sector development, two WellU products were included. 2020 Innovations were awarded to LipoColl Serum PRO from Larens Professional salon line and to the preparation for home use, complementing the product – LipoColl Serum, Larens make.
Larens Professional LipoColl Serum PRO – professional serum and the complementing serum for home care Larens LipoColl Serum, are highly concentrated serums of a record: 50 and 20 percent content of Liposomal Collagen Complex. So far this is an unprecedented, innovative combination of the natural peptides and amino acids of fish collagen, closed in liposomal carrier that supplies them to the deeper skin layers and intensifies and prolongs their action.
Return to list