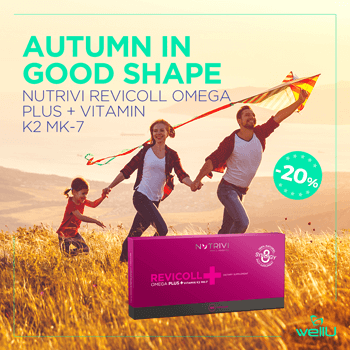 Autumn in shape! Check out how easy it can be with Nutrivi Revicoll -20%!
Provide yourself with comprehensive supplementation featuring Nutrivi Revicoll Omega Plus+Vitamin K2MK7 with the Biopeptide Complex, Omega acids , vitamins A, D, E, K, calcium, and a wide range of trace microelements essential for your body. Now, in autumn offer you will buy:
Revicoll Omega Plus + Vitamin K2MK7 60 caps. 20% cheaper*
* -20% point value
Catch the Autumn vibe together with the offer, it's valid while the stock lasts or until cancelled.
Return to list