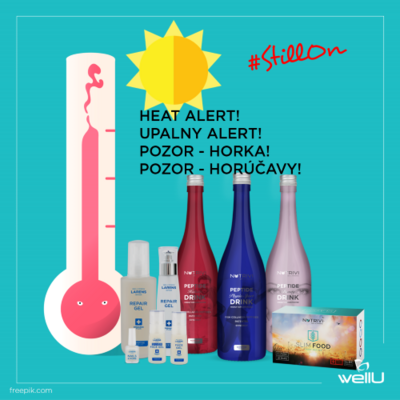 Attention! "Heat alert" extended
Dear Business Partners,

On 11/6/2019 we have announced the "Heat alert" regarding the suspension of shipments of Larens peptide-collagen gels due to high temperatures that may affect preparations in transport. The heat is not letting go, and even gaining up, which puts us ahead of the decision not only to keep the alert, but also to extend it to further products sensitive to high temperature: Slim Food bars and Peptide Drinks.
Therefore, we decided that:
all types of Larens peptide-collagen gels, Nutrivi Pepride Drinks and Slim Food bars will be available on sale until tomorrow (Wednesday, 26.06), until 12:00. After this time, their sale will be temporarily suspended until the temperature drops.
based on forecasts we have hope for slightly cooling in the second half of the week, we decided that the products that are waiting for shipping and the products from the "Alert list" ordered until 12:00 on Wednesday (26.06) will be send on Thursday (27.06) by special transport. So if you place orders by noon on Wednesday, shipments should be delivered to you on Friday (28/06).
We observe weather forecasts and decide about the transport of sensitive products. At the moment, the forecasts indicate that in the first week of July we can count on few days with cooler temaperatures, but the situation is dynamic. Thank you for your understanding and patience.
We will inform you about the status of "Heat alert" on our website and Facebook @wellugroup.
Return to list